Chicora Walking Tour

 



Walking the streets of Charleston, one of the oldest cities in America, is walking through an important part of the tapestry of American history. Established in 1670, Charleston grew to become one of the nation's leading ports and was an especially important for trade and military defense in the South. In fact, by 1750 Charleston was the largest and wealthiest city south of Philadelphia.
On our walk together, you'll become part of a city with a rich and fascinating story to tell. From it's wealth and opulence to the many disasters that fell upon it and its participation in the darkest parts of American history and humanity. Like any city with opportunity, people of great diversity came from near and far to participate in the building of one of the early melting pots in America. They built enduring structures; houses, churches, businesses and forts all with their own stories to tell. These streets and structures have been walked by presidents and foreign dignitaries, generals and soldiers, slaves and slave traders, and pirates and merchants. You will feel a part of the celebrations held for visiting presidents to the devastating fires, earth quake, hurricanes along with attacks by foreign invaders, pirates and eventually Union armies that were defended against.
"Chicora" are the fresh coastal breezes that add to Charleston's charm and natural beauty. Legend has it that during a particularly deadly outbreak of disease the natives suggested that their foreign neighbors move down to the peninsula where the healing, "chicora" breezes would restore their health. It may be that these breezes also limited the population of mosquitos that were vectoring their ailments and so the settlers indeed found improved health. They probably found other things such as fertile soil and other resources that made it an ideal place to build give rise to Charleston, South Carolina. 
Tour of the Tour
St. Philip's Episcopal Church
Oldest congregation in Charleston
John C. Calhoun, 2 time VP buried here
Christopher Gadsen, William Rhett, Charles Pinckney and Edward Rutledge buried here
Four degree tilt due to earthquake of 1886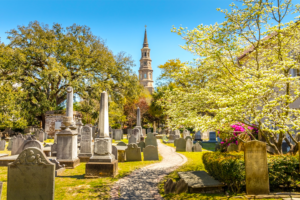 Dock Street Theater
First building in America to be used for theatrical performances
Destroyed in Great Fire of 1740
Reopened as Planter's Hotel in 1809
Planter's punch invented here
Reopened in 1937 as a theater
Reopened in 2010 as a theater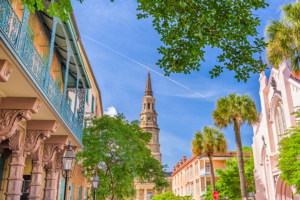 French Huguenot Church
Also known as the Church of the Tides
Chalmers Street
One of 8 remaining cobblestone streets in Charleston
The Pink House
2nd oldest house in Charleston
Ryan's Mart
40 to 50 slave markets
This is the only one that is still standing
Currently a museum
40% of all slaves brought to this country came in through the port of Charleston
Here we discuss this part of our city's history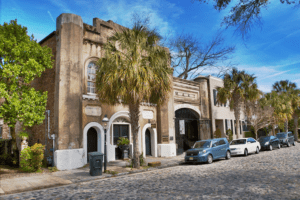 8 ½ State Street
Discuss different architectural features and why Charleston is one of the most well-preserved cities in America
Old Exchange
Built in 1771
It is the last building built with British money
This was a gift from the British
August 1776, the Declaration of Independence was read to the citizens of Charleston from these steps
In 1788, the Constitution was ratified by South Carolina in this building
In 1791, President Washington visited and a three-day ball was held for him where he danced with over 250 women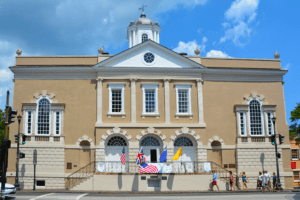 Rainbow Row
Originally merchants' homes
Shops were on the first floor and the merchant's families lived on the second and third floors
Was rehabbed in the 1930's
Painted these colors to celebrate our connection with Barbados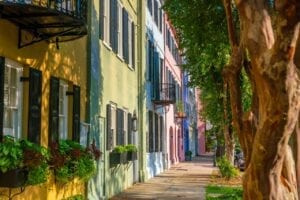 Robert Smalls
Born into slavery
Was sent to Charleston and became a wheelman in the harbor
Assigned to the CSS Planter
Stole the ship and turned it over to the Union
He became a Captain in the Union Army
Returned to Beaufort after the War and bought the plantation that he was born on
Served one term in the South Carolina General Assembly and five terms in the US House of Representatives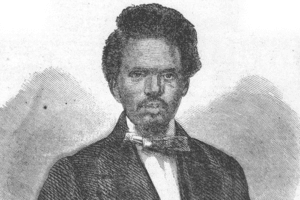 Stoll's Alley
We will see several great examples of ironwork made by Philip Simmons
Philip Simmons was one of the most well-known blacksmiths in America